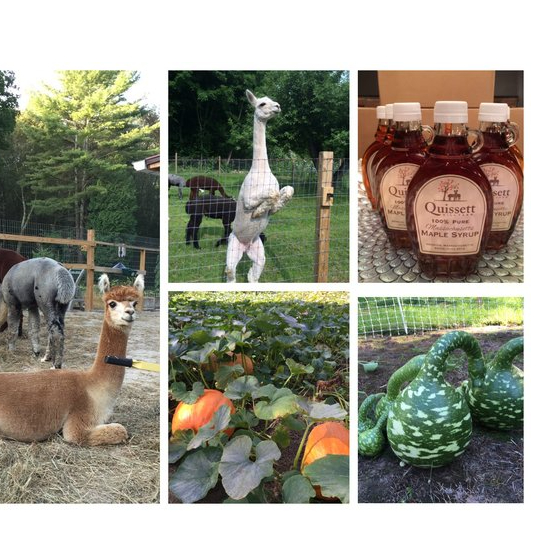 Quissett Hill Farm*
Contact: John Gomersall
City: Mendon, MA,
Email Address: orders@coastalfoodshed.org
About Us
Coastal Foodshed is proud to offer Quissett Hill Farm products on their behalf. Please read the following excerpt from their website:

How We Got Started: Well first, after searching for many years for a home on an old country road we found our little slice of paradise in May of 2012.

In July of 2013 while celebrating our 10th Wedding Anniversary on Block Island we fell in love with alpacas while visiting North Light Fibers. We began researching alpacas as soon as we got back from our trip and spent the next year visiting alpaca farms throughout New England. In May 2014 we bought our first 4 alpacas from Morning Beckons in Connecticut. We purchased fiber boys - Remington (brown), Onyx (black), Pretty Boy (Fawn) and Prince Charming (Light Grey). We brought them home in August 2014 once the perimeter fencing and sheds were completed.

John loves the outdoors he began tapping Maple trees on the property and he added a pumpkin patch.

In May 2015 we added two more fiber boys to our herd, Ashton (white) and Revvy (dark grey).

In September 2015 we participated in our first National Alpaca Farm Days - it's a weekend that alpaca farms across the country open to the public. It's a great opportunity for people to meet alpacas and learn about their luxurious fiber. This was a great opportunity for us to sell our farm products as well!

Since then our Maple Syrup production has moved from buckets to lines and our pumpkin patch has doubled in size.