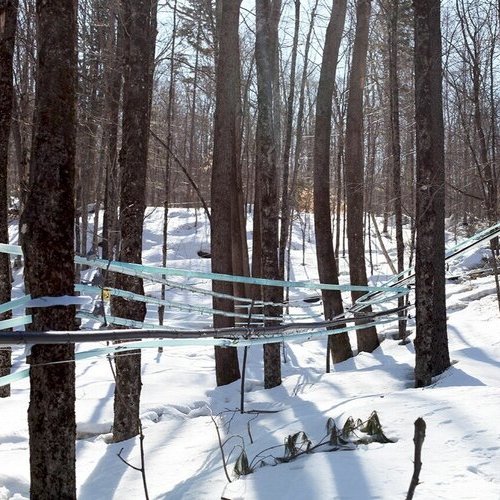 Holiday Brook Farm*
City: Dalton, MA,
Email Address: orders@coastalfoodshed.org
About Us
Coastal Foodshed is proud to resell Holiday Brook Farm Maple Syrup products on their behalf. This excerpt is taken from their Facebook page:

Holiday Brook Farm is located in the heart of Berkshire County and is made up of 1,300 acres of forest and farmland that has been sustainably managed for four generations of the Crane family. Dicken Crane and his three siblings Tim, Carrie, and Mary had the privilege of growing up in the Cottage farmhouse on the back of the property. The farm is currently owned and operated by Dicken and his wife Ruth.
Practices
It All Starts in February
The days start to get longer, the sun a bit warmer, and the trees a bit happier. You might even notice sap dripping from broken branches on your hikes. It really takes a solid warming for the sap to migrate from the trees roots out into our drilled taps and once the trees have completely thawed, the fun really begins. Over the next 4-5 weeks, we then have a steady flow of collection and processing the sap to make our syrup!

Evaporation/Boiling
Once the sap has been collected from the tank at the sugarbush, its pumped into our reverse osmosis system which raises the sugar concentration by condensing the sap into a smaller volume. Once complete, the concentrated sap flows into our evaporator. This evaporation/boiling process usually takes several hours and includes feeding firewood into the evaporator in our sugar house. The sap to syrup ratio is typically 40 to 1 meaning that you would need around 40 gallons of sap to create 1 gallon of syrup. Syrup is considered ready when our calculated density candy thermometer reads 219 degrees.

The Final Product
We make four different grades of syrup:
Golden: Delicate taste- mild maple flavor perfect for pancakes (not for sale: we reserve this for candy and cream).
Amber: Rich taste- more potent maple flavor than golden. Great for pancakes and coffee.
Dark: Robust taste- Our favorite! Added maple flavor perfect for pancakes, cooking, coffee, or on top of ice cream.
Very Dark: Strong taste- this one is great for cooking, coffee, or anywhere else you would like to introduce that great strong maple flavor.