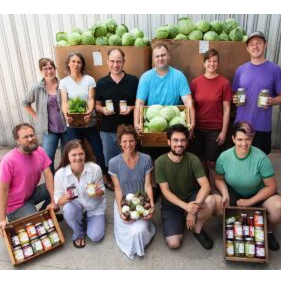 Real Pickles*
Address: 311 Wells Street Greenfield, MA, 01301
Email Address: orders@coastalfoodshed.org
About Us
Coastal Foodshed is proud to offer Real Pickles products on their behalf. Please read the following excerpt from their website:

Our Story
Real Pickles is a worker co-operative working to change the food system by making pickles! It all started when Dan Rosenberg began making traditional pickles in 1999 after attending a workshop at a Northeast Organic Farming Association conference. Excited about the benefits of locally grown food, he started pickling cabbage, turnips, greens, and other vegetables as a way to eat locally throughout the winter. Dan also got inspired by the work of Dr. Weston A. Price, a researcher who traveled the world in the 1920s and 30s studying the diets of indigenous peoples and who found that those eating traditional diets enjoyed a high level of health completely unknown in industrialized societies.

Dan quickly became devoted to the craft of traditional pickling and, two years later, decided to go into business. The idea was to create a small company focused on building a better food system. As one of a tiny handful of businesses producing raw, fermented vegetables, Real Pickles would offer an important and nourishing food that was largely missing from the food system. This new business would also be committed to local/regional food and organic agriculture. Real Pickles would buy its vegetables only from Northeast organic farms and sell its products only within the Northeast.

Real Pickles launched in 2001, purchasing 1,000 pounds of certified organic pickling cucumbers from Chamutka Farm, and successfully selling its inaugural batches of Organic Dill Pickles to a couple dozen local stores. The following season, Real Pickles began operating out of the Western Massachusetts Food Processing Center in Greenfield, a business incubator kitchen created to boost the local agricultural economy by providing a venue for making value-added foods with local farm ingredients. At the Food Processing Center, Dan – soon joined by Addie Rose Holland – was able to steadily grow the business, adding products like Organic Sauerkraut and Organic Ginger Carrots, and expanding sales to stores in the Boston area and then elsewhere around the region.

By 2009, Real Pickles had outgrown the incubator kitchen, and we were ready to make the leap to our own home. We purchased a century-old industrial building in Greenfield, MA and transformed it into a solar-powered, energy-efficient, organic pickling facility. The move allowed us to expand significantly, tripling our purchases from local farms in the years following. We look forward to staying here for many years to come.

Meanwhile, we've demonstrated that there is a real and growing demand for raw, fermented vegetables and that a business as deeply committed to social responsibility as ours can work! In 2013, we turned to preserving our social mission for the long term and – following a successful community investment campaign – took the exciting step of transitioning Real Pickles to a worker co-operative. We are proud to join the ranks of other co-operatives that are supporting local ownership, workplace democracy, and contributing to the co-operative economy!
Practices
Fermentation Process

We use lactic acid fermentation to make our Real Pickles products (also known as lacto-fermentation or natural fermentation). It is the original pickling method and has been an essential part of healthy human diets throughout the world for thousands of years. In Asia, consumption of fermented pickles dates back at least to the 3rd Century B.C.E., when the Great Wall of China was under construction. In Europe, sauerkraut is known to have been an important food among the ancient Romans.

Today, Real Pickles is one of a growing number of businesses in the United States producing raw (unpasteurized) and fermented pickles, sauerkraut, kimchi, and other vegetables. This traditional pickling process went out of favor with the advent of industrial food production. Modern pickling methods, including use of vinegar (usually in place of fermentation) and pasteurization, produce a uniform, shelf stable product suitable to the needs of the large food corporations. Unfortunately, modern pickles do not offer the authentic flavor or the probiotic and health-promoting qualities of traditional pickles.

How it works
Many studies show that including raw fermented foods in our diet can improve health from gut to brain.
Read more about Health Benefits
Lactic acid fermentation relies on beneficial cultures – similar to those used to make yogurt or sourdough bread – to break down natural sugars in the vegetables and produce a variety of healthful substances, primarily lactic acid.

The process begins with fresh, nutrient-rich vegetables, naturally bearing lactic acid cultures on their surfaces (making starter cultures or inoculants unnecessary). The produce is washed, chopped or sliced as needed, and mixed with sea salt. The salt acts to draw out juices, preserve the vegetables while the fermentation gets started, and regulate the fermentation process itself. The mixture is packed into air-tight fermentation vessels (jars, crocks, or barrels) and placed in a warm spot (65-80 deg F).

Cucumbers undergo a relatively short fermentation, while cabbages may take several months to yield finished sauerkraut. During this time, cultures transform the fresh vegetables into pickles by converting sugars to lactic acid, acetic acid, carbon dioxide, and other beneficial substances. It is the lactic acid that is primarily responsible for preserving the vegetables, as well as creating the wonderful flavor and aroma of traditional pickles.

Length of fermentation depends on many factors, including temperature, moisture of the raw vegetable, amount of salt used, and thickness of the cut. We taste every batch during fermentation to determine when it tastes just right! Once finished, the ferments are stored under refrigeration to slow the fermentation, where they will remain preserved for two years or more.