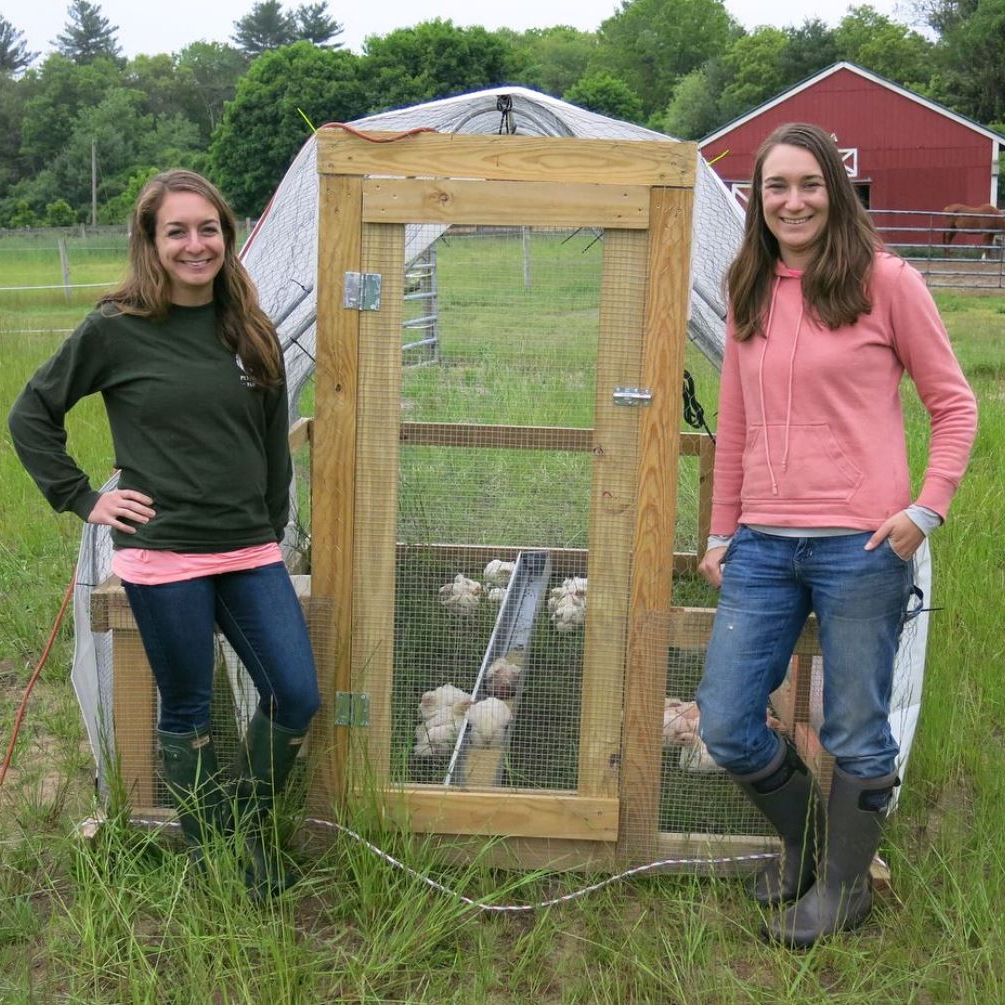 Plympton Poultry*
Contact: Kathryn Shepard & Erin Williams
City: Plympton, MA,
Email Address: orders@coastalfoodshed.org
About Us
Coastal Foodshed is proud to offer Plympton Poultry products on their behalf. Please read the following excerpt from their website:

Erin Williams of Bogside Acres and Kathryn Shepard of Revival Farm have paired up to bring you Plympton Poultry. We raise Cornish Cross chickens on pasture in mobile tractors which provide the birds unlimited access to green grass, sunshine and fresh air. In addition to grass and bugs, the chickens eat locally milled grain that is free of additive, hormones and chemicals.
Practices
ABOUT THE CHICKENS
We raise cornish cross broiler chickens for farm fresh meat. The chicks arrive to our farm when they are just a day or two old and spend the first three weeks of life in a brooder. After that, they are moved to chicken tractors and live on pasture with plenty of access to sunshine, fresh grass and bugs.

The chickens' diets are supplemented with locally milled, all natural, chemical and additive free grain to help them grow. They are brought to a USDA certified processor when they are eight weeks old. The finished product is a delicious, tender 4 to 6 pound roaster.

We visit the tractors everyday to talk to the chickens and move them to fresh grass. Our chickens are happy, have tons of sunshine and fresh air and are allowed to do what chickens love to do - scratch and peck!

WHERE CAN YOU FIND US
Colchester Farm Stand — Located on the corner of Colchester and Brook street in Plympton. Find our frozen chicken in the freezer daily.

Just Right Farm — Located on Rt. 58 in Plympton. Our chicken is often featured on the menu.

ABOUT THE FARMERS
ABOUT ERIN
I am the owner of Bogside Acres and while I'm a banker by day, I'm a Farmher by all other hours. I'm no stranger to farming having grown up on a small family dairy farm in Pennsylvania. After completing my degree in Animal Science at Cornell University I moved to Massachusetts, eventually settling in Plympton with my husband Cass who is a Massachusetts native and fulltime cranberry grower.

Bogside Acres is a small diversified livestock operation located in Plympton. We offer grass fed Simmental Beef which spend a majority of the year grazing on local pasture and enjoy local hay, supplemented with local brewers grain in winter. Additionally, we offer and seasonally raise Pastured Pork and Pastured Poultry. To learn more about our current offerings and follow along on with current happenings on the farm check out our Facebook & Instragram @BogsideAcres

ABOUT KATHRYN
I grew up on the South Shore and have always loved animals - in high school, I was a competitive horse back rider and showed all over the country on the Appaloosa circuit.

I attended Skidmore College for my undergraduate degree and then received a Masters in Accounting and an MBA from Northeaster University. Right after graduation I worked in public accounting and got my CPA license. I currently work for a local bank as the Loan Operations Manager.

My husband, Justin, and I moved to Plympton in June 2016 when we bought a condemned farm house that was in need of a complete renovation. While bringing the house back to life we decided we also wanted to bring the farm back and started Revival Farm. We already had a small flock of layer chickens and we added in five pigs. Today we raise Free Range Layer Hens, Pastured Poultry and Pastured Pork and we have a few of Erin's cows roaming our pasture. If you would like to follow along you can find us on Instagram @RevivalFarm and on Facebook @theRevivalFarm.